Even if you're only in Hong Kong for short time, you'll have time to eat. And, with 11,000 restaurants in Hong Kong's 426 square miles, you won't have to go far to do so. Harder though, can be choosing a restaurant. There's everything—from Cantonese* to Shanghainese, from McDonalds to Genki Sushi, from vegetarian meals at temples to steak dinners in skyscrapers, and it can cost from thousands of dollars to two or three for a satisfying meal.
If you already have an idea of what you'd like to sample while you're in Hong Kong, I recommend looking at the "Dining Search" or "Interactive Dining Planner" at the Hong Kong Tourism Board's web site (links are along the side panel): http://www.discoverhongkong.com/eng/dining/restaurant-guide.html. However, if you're looking for suggestions, read on…
Dim Sum 點心
"Dim sum" refers to bite sized (or slightly larger) pieces of food served on small plates or in bamboo baskets. It includes familiar favorites like dumplings and spring rolls and some foods that may be less familiar—such as turnip cake and chicken feet. Dim sum restaurants are typically open during breakfast, brunch, and lunch. The characters of dim sum, 點 and 心, literally mean "dot/little" and "heart" but are often poetically translated as "little hearts" or "to touch your heart".
One of Hong Kong's most popular dim sum restaurants is Tim Ho Wan , which was opened by former Four Seasons dim sum chef Mak Pui Gor. Queues are long and the restaurant is teensy, but the dim sum is incredible.  Additional dim sum restaurants can be found at the Tourism Board website above.
Seafood
If you're a seafood lover and have some time, make the trek out to Sai Kung or take a ferry to Lamma Island's Sok Kwu Wan for incredible seafood restaurants right along the water. In either place, you'll be able to select your meal from huge fish tanks next to the restaurant. Sok Kwu Wan's Rainbow Seafood Restaurant is reliably excellent as is the restaurant farthest to the left on Sai Kung's boardwalk (when facing the water). However, whichever restaurant looks most bustling will probably have good catches & deals that day.
More information can be found on Sai Kung restaurants and how to get there here: http://www.discoverhongkong.com/eng/attractions/nt-saikung.html and here http://intransit.blogs.nytimes.com/2008/01/17/how-to-order-a-sai-kung-seafood-meal/
To get to Sok Kwu Wan, you'll need to leave from Hong Kong Island's Central Pier (time table here: http://www.hkkf.com.hk/index.php?op=timetable&page=sokkwuwan&style=en), which is located very close to the metro's "Hong Kong" stop . You'll be dropped off in the heart of the restaurants when the ferry arrives at Sok Kwu Wan.
Fusion
All over Hong Kong, you'll find restaurants that reflect Hong Kong's internationality. A great place to see this (very inexpensively) is at Hong Kong's cha chaan tengs (茶餐廳). The atmosphere at one is somewhat like an American diner's or cafeteria's, but the menu makes it clear that you're someplace quite different–for example, at almost any cha chaan teng you go to, you'll be able to get wonton soup, steak, French toast, curry, and much more.
If you're not in the mood for a cha chaan teng, you'll be able to see examples of fusion at almost any restaurant  that calls itself "Western" or doesn't bill itself as serving one specific type of cuisine (but you'll likely be able to find fusion dishes at those too). Below are some of my favorite fusion dishes:
Mushroom Risotto with Wasabi Sauce (all of the following dishes were eaten at Café de Itamomo http://www.openrice.com/english/restaurant/sr2.htm?shopid=50760)
Baked Egg Tofu with Bacon and Cream Sauce
Coffee with Tea (also popular at cha chaan tengs and called Yuenyeung 鴛鴦)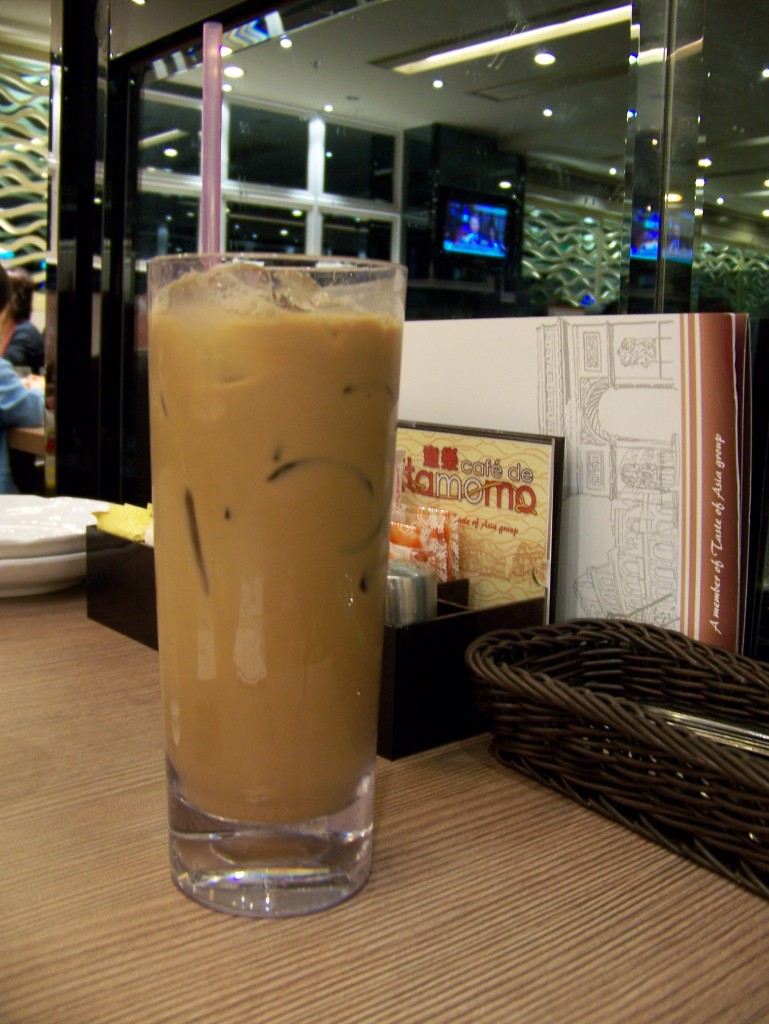 Happy Dining!
———————————————————————————————————
*What is Cantonese food? Most likely, it is very similar to the Chinese food you already know, because immigrants from Southeastern China (where Cantonese food comes from) were some of the first to come to America and open up restaurants. Think combinations of rice, meats (chicken/pork/beef), vegetables, sparing use of ginger or chili pepper—steaming or stir frying likely.